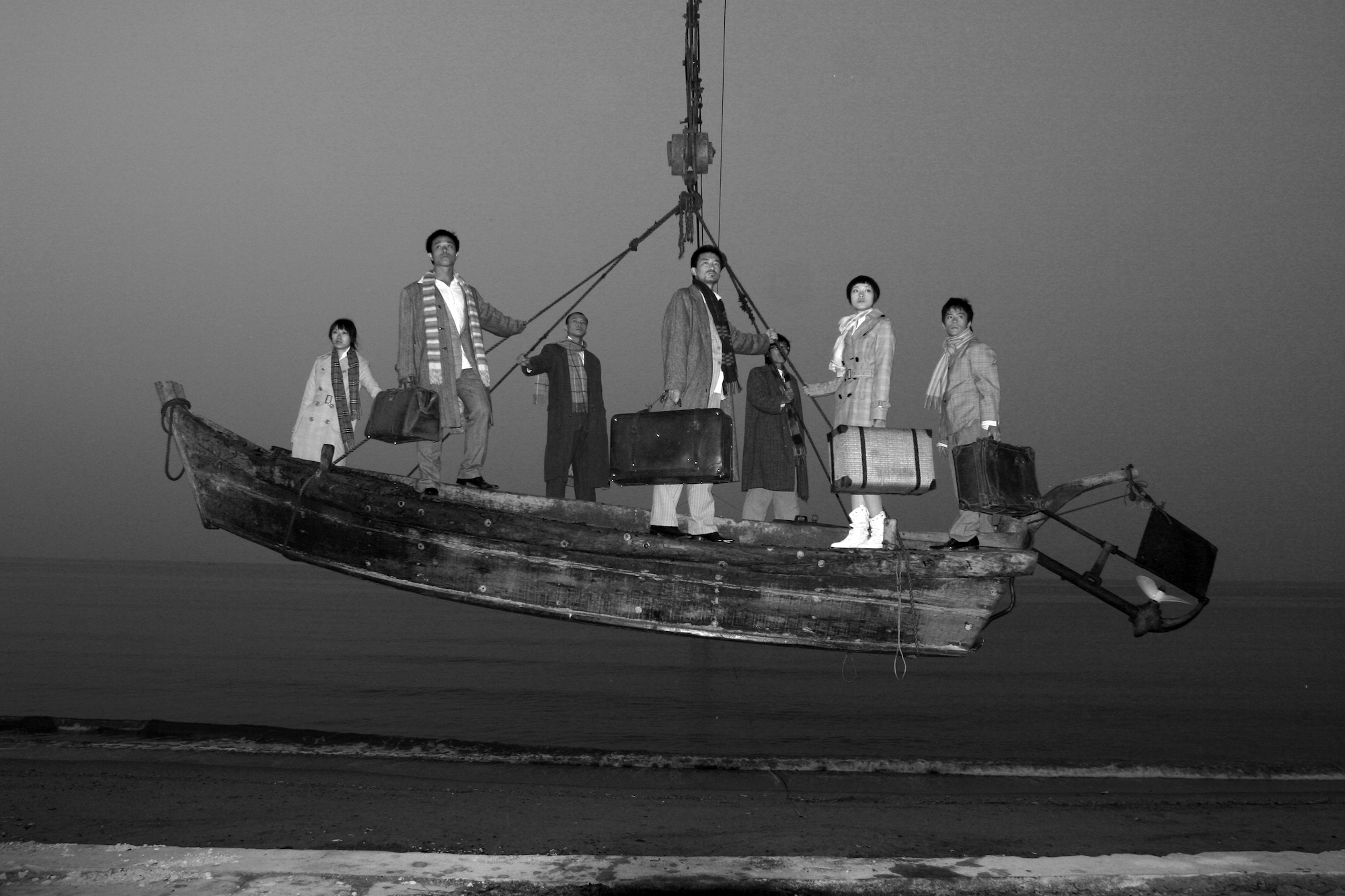 SEVEN INTELLECTUALS IN BAMBOO FOREST, PART 4, 2006
35 mm b/w film transferred to DVD; 70 min.
While attending the China Academy of Fine Arts in Hangzhou (1995), Yang Fudong was inspired by the story of the Seven Sages, or Seven Intellectuals, who frequently acted on their emotions and were free thinkers and idealists. In Chinese art history, the Seven Sages of the Bamboo Grove were a group of Chinese philosophers, poets, and musicians of the Wei-Jin era (220-420 A.D.). During a time of political upheaval, the group distanced themselves from government service, choosing instead to spend time engaged in Daoist-inspired discussions, music, poetry, and heavy drinking. The Seven Sages of the Bamboo Grove doesn't exist as a book: there are legends, popular stories, hearsay knowledge, and the stories have continually been adapted to changing contexts and times and to the intentions of different storytellers.
Shot over a period of five years in China, "Seven Intellectuals in Bamboo Forest" (2003-2007) is a five-part black-and-white film imbued with an avant-garde, film noir aesthetic, as well as Shanghai cinema of the '30s and '40s, the so-called Golden Age of Chinese cinema. Though lacking an explicit narrative, the film has dialogue, sound, and music—in Part 1 and Part 2 by Jin Wang. Like Part 3, the fourth part has no music or dialogue, only natural sounds sourced in situ by Huang Xun and Dai Dai.
Part 4 is set on an island. In Chinese legend, there is an island of Peach Blossoms—the very ideal place to live, where one's thoughts can fly freely. The film was shot in Shandong province, near the port city of Weihai. In the common imagination, an island corresponds to a model of utopian life. The intellectuals have to invent a new world from scratch by defining new modalities of social life and interaction and a new distribution of labour. The broad landscape intensifies the loneliness of the figures and each person is reliant on himself to find his own happiness. The film was shot with the actors working alongside the local fishermen, labouring in the heat to load and unload fish from boats and transport their luggage. There are different threads that define the dual identities. The first thread is a group of people searching for a port, walking in one direction; the other thread is this group's daily labour and transformation. Working with a vague idea and improvising during the shoot, they happen upon a boat-lifting machine used to hoist vessels to shore so they could unload the fish. In the final scene, the seven are seen suspended in the air on the boat with suitcases, conjuring a sense of distance and alienation. [1]
Postscript of "Seven Intellectuals in Bamboo Forest"by Yang Fudong, 2009

Part one: A postcard-like set of travel notes on the good life.
Part two: Closed life in a flourishing city. No matter what city you inhabit, you understand nothing better than your own family, your home, and those private spaces that truly belong to you.
Part three: Another kind of life. They leave the city and head into the country, a real farming village, plowing by day and resting by night, forgetting all that bothers them.
1 Marion Goodman Gallery and ShanghART Gallery, 2008