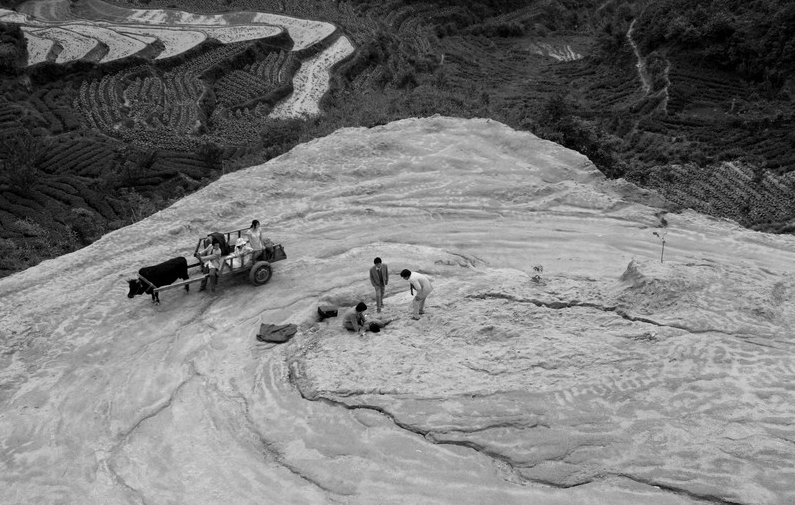 SEVEN INTELLECTUALS IN BAMBOO FOREST, 2003–2007

PART 3, 2005/06 35 mm b/w film transferred to DVD; 55 min. 20 sec.
While attending the China Academy of Fine Arts in Hangzhou (1995), Yang Fudong was inspired by the story of the Seven Sages, or Seven Intellectuals, who frequently acted on their emotions and were free thinkers and idealists. In Chinese art history, the Seven Sages of the Bamboo Grove were a group of Chinese philosophers, poets, and musicians of the Wei-Jin era (220-420 A.D.). During a time of political upheaval, the group distanced themselves from government service, choosing instead to spend time engaged in Daoist-inspired discussions, music, poetry, and heavy drinking.
Shot over a period of five years in China, "Seven Intellectuals in Bamboo Forest "(2003-2007) is a five-part black-and-white film imbued with an avant-garde, film noir aesthetic, as well as Shanghai cinema of the '30s and '40s, the so-called Golden Age of Chinese cinema. Though lacking an explicit narrative, the film has dialogue, sound, and music—in Part 1 and Part 2 by Jin Wang and, in Part 3 and subsequent parts, by Huang Xun. Like the original seven sages, Yang's seven young people seek to escape corrupt court politics and together left the city in search of their future.
Yang Fudong says of part three which has sound but no dialogue:
"In the third part the group leaves for the countryside. This trip is made by an ox-driven cart. In the country the young people live as peasants. As on farms, they cultivate the land and tend the animals, for which they develop some feeling. In their free time they read. Their days alternate between reading and typical concerns of rural life. Love stories also emerge and unfold within this context. Country life offers the protagonists experiences that they do not know. The cruelty of the countryside is different from that of the city. For example, the ox they have used to till the fields grows old. According to the logic of rural life, when an animal no longer has the strength to work, it is killed. This scene is a crucial moment in the film. Against their will, the protagonists acquire a new awareness, a different view of the rural world. [1]
Postscript of "Seven Intellectuals in Bamboo Forest," Part 1 & 2 by Yang Fudong, 2009
Part one: A postcard-like set of travel notes on the good life.
Part two: Closed life in a flourishing city. No matter what city you inhabit, you understand nothing better than your own family, your home, and those private spaces that truly belong to you.
1 "Yang Fudong, the Foreigner and the Search for Poetic Truth," Marcella Beccaria, translated by Marguerite Shore, 2006