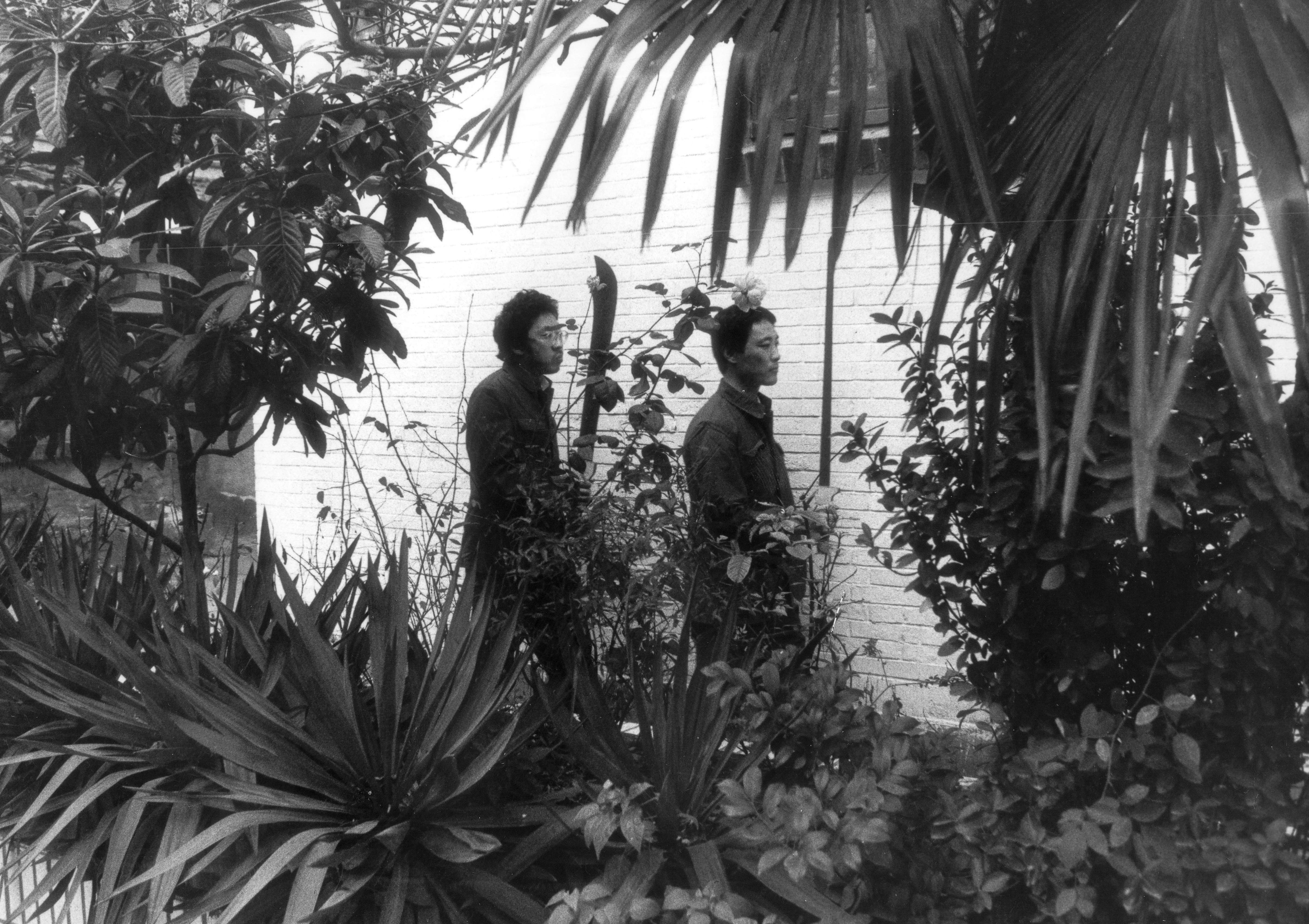 BACKYARD - HEY! THE SUN IS RISING (Hou fang - hei, tian liang le), 2001
35mm b/w film transferred to DVD, sound by Zhou Qing; 13 min.
Yang Fudong's first film, "Backyard - Hey! the Sun is Rising" was completed in 2001, before "Estranged Paradise" which he began in 1997 and finalized for Documenta in 2002. Leaving behind his academic training in Hangzhou (1995), "Backyard - Hey! the Sun is Rising" begins Yang's aesthetic development as he moves to capture the fashion and cityscape as well as the reality and hyper-reality of Shanghai in 2001.
"Backyard - Hey! the Sun is Rising"—"depicts a young man, or rather four young men dressed up in military uniform, as they try to retain the sentimental feeling that is about to escape them when the sun comes up in the morning." The sound of beating drums at the start of the film is reminiscent of the background music in Akira Kurosawa's film Ran. The film follows the antics of the four men who simultaneously engage in acts—they smoke, they yawn, and massage themselves while enacting military exercises and brandishing swords. Traipsing through the streets, plazas, and courtyards of an unnamed city, the seriousness with which they perform these acts contrasts with their pointlessness. Their desire is to break through the limitations of the world, but they end up wounding themselves and not the world.
"Backyard - Hey! the Sun is Rising," along with Yang's early works including "City Light (cheng shi szhi guang)," 2000, and "Robber South (Dao Nan)," 2001 which is on view in Zena Zezza's exhibition, have been referred to as "sublime pieces which submerge politics into a narrative of poetic images."
Source: ShanghART Gallery, Shanghai, and The Renaissance Society, Chicago