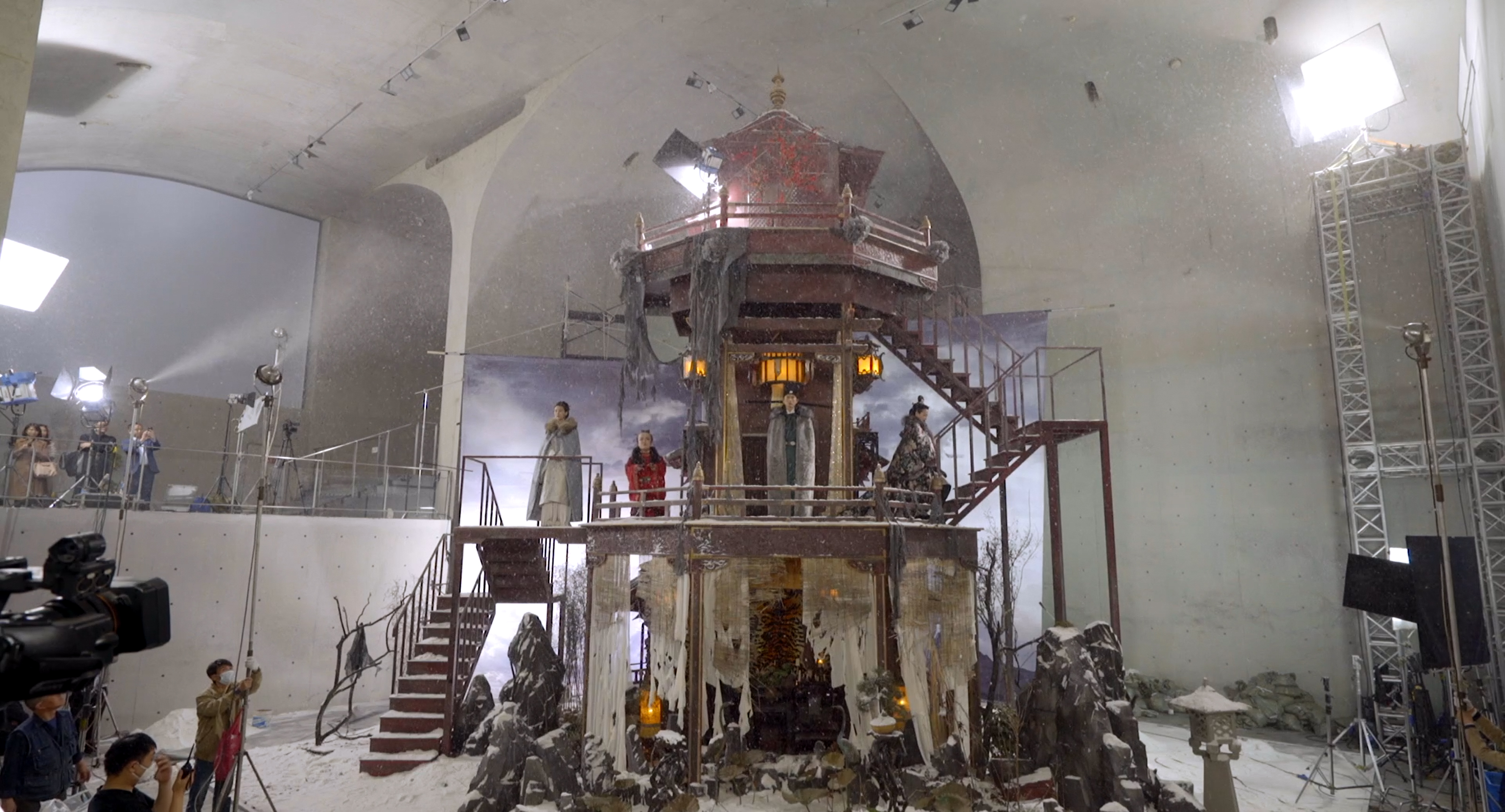 Performance in the Work of Yang Fudong—from "Otherwhere" to "Dawn Breaking"

Yang Fudong and Ute Meta Bauer
Friday, April 8, 5pm PDT
Virtual
A live virtual event with artist Yang Fudong and curator Ute Meta Bauer, presents the evolution of performance in Yang's work, beginning with his vow of silence while a student at The Academy of Art in Hangzhou, China (1991–1995), which a decade before Yang's arrival, had become a center of experimentation. While a student, he watched the video of Joseph Beuys' 1974 performance "I Like America and America Likes Me", a performance during which Beuys was brought in an ambulance to an art gallery to avoid stepping on US soil, and where he was confined with a coyote. In Hanghzou, texts such as Ludwig Wittgenstein's "Tractatus" were circulated, which drew a limit to the expression of thoughts summed up as: "What can be said at all can be said clearly, and whereof one cannot speak thereof one must be silent." In 1993, Yang's first action was "Otherwhere", a silent performance when for three months he took a vow of silence. He stopped speaking and only wrote messages to communicate even on his body if there was nothing else to hand. After moving to Shanghai, Yang began to contemplate a five-part work in late 2001, creating one part of the cycle a year, deliberately slowing his pace. At the 52nd Venice Art Biennale (2007), "Seven Intellectuals in a Bamboo Forest" was shown in its entirety spread out over five successive rooms in the Arsenale.
Yang would realize more than one project of long duration. In 2009, he proposed the idea of shooting a film in a museum as a live performance and, for the second edition of "Performa" in New York, he was commissioned to "create an open film set inside a New York Museum." It was understood to take place at the Metropolitan Museum of Art, but it remained unrealized. More than a decade later, in 2018, Yang realized the opening chapter of "Dawn Breaking – A Museum Film Project" as a live durational performance at the Long Museum in Shanghai. Inside the museum, two spectacular sets were built as shooting locations — "The Morning Ceremony of the Song Dynasty" and "The Tower of Life." Over 36 days a continuous performance unfolded while museum audiences witnessed the live filming. The visitors could also view the raw footage of each day's film shoot on the following day, posted sequentially in 36 "dailies" in the form of video diary. Later that year, Yang realized "Indeed, the Only Way", a live performance and installation which was staged and filmed at The Power Station of Art, his contribution for the 12th Shanghai Biennale. The video "Indeed, the Only Way" is currently installed in Zena Zezza's exhibition YANG FUDONG—from "Yejiang/The Nightman Cometh" to "Dawn Breaking" in Portland Oregon, United States.
Yang Fudong was born in Beijing in 1971 and lives and works in Shanghai. Yang graduated in 1995 from the Oil Painting Department of the China Academy of Art in Hangzhou. Over more than two decades—since the late 1990s—Yang has engaged Chinese history, identity and memory through photography, painting, film and installations in which he reconstructs the tropes of Chinese landscape painting in landscapes veiled in mist, or is inspired by Chinese legends in which philosophers, poets and musicians gather in search of an ideal life. Yang's works present unique visual interpretations through cultural perspectives which explore structures and forms of identity in myths, personal recollections and life experiences. Yang intentionally searches for multiple meanings, often using a visual language enveloped in a dream-like mystery blurring the boundaries between reality and fantasy. His characters are often silent and move in choreographed settings from forests and mountains to the opulent court of the Song dynasty. His oeuvre reflects China's move to modernize and the great changes its centuries-old civilization has undergone. Questioning whether the process of filming is the film itself, Yang unveiled "Dawn Breaking – A Museum Film Project" to museum audiences at the end of each day's filming over 36 days in the Long Museum West Bund, Shanghai (2018). Cited as "among the most influential Chinese artists working today," Yang will present a prestigious solo show in the Great Hall at UCCA Beijing, opening in late 2022. Zena Zezza's exhibition "YANG FUDONG—from Yejiang/The Nightman Cometh to Dawn Breaking" presents Yang's work for the first time in the Pacific Northwest and the first focused exhibition of his work in the US since 2013.
Ute Meta Bauer was born in Germany and studied visual communication, stage design and art theory at Hochschule für bildende Künste Hamburg. Bauer is an editor, professor, curator and, since 2013, she is the Founding Director of the NTU Centre for Contemporary Art in Singapore, a national research centre of the Nanyang Technological University. Currently, she is curating the Singapore Pavilion at the 59th Venice Biennale featuring "Shubigi Rao: Pulp III: A Short Biography of the Banished Book" and is a curator of the 17th Istanbul Biennale alongside David Teh and Amar Kanwar. Bauer was a co-curator of Documenta 11 (2002) on the team of artistic director Okwui Enwezor where Yang Fudong first gained international acclaim for his film "Estranged Paradise." At NTU CCA Singapore she curated Yang's exhibition "Incidental Scripts" together with Khim Ong (2014/2015). Bauer was on the search committee to appoint the Indonesian collective ruangrupa as curator of Document 15 (2022) and she was on the curatorial team for the 17th Istanbul Biennial (2022) focused on ecological and environmental concerns. Bauer publishes regularly on artistic and curatorial practice and education and she has been at the forefront to integrate talks programs, residencies, archival practices and long-term research initiatives into exhibition programs.